Monday morning after a big weekend. We flew to Brisbane for the Nicstar Christmas party on Friday night. They had a full stage set up for jamming into the early hours. We all had a ball drinking & playing (pulled out a few old songs from the first album, Rob on bass…).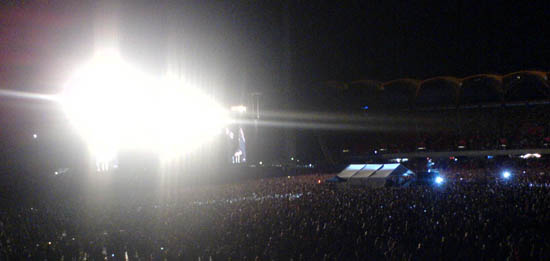 Foo Fighters at Carrara Stadium (Dave Grohl out on the platform to the right).
Hangovers on the mend, Rob & Nic took us down to the Gold Coast on Saturday night for the Foo Fighters at Carrara football stadium. The Fooies were fantastic – the full blown rock show, Dave Grohl running back and forth along a 70 metre catwalk stretching out into the vast crowd. It was a thoroughly engaging set, one of the best live shows I've seen for a long time.
Tenacious D opened proceedings. Jack Black & Kyle Gass were totally hillarous, as you'd expect – complete with mock band break-up & make-up live on stage. Still laughing about it…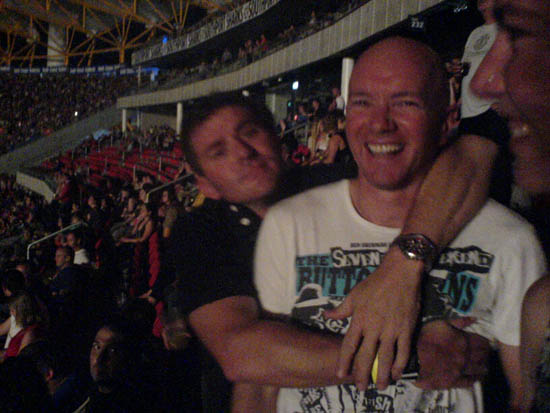 Rob & Mick at Fooies – Max in RHS foreground.
By yesterday morning we were spent, up at 6am to catch a flight back to Melbourne.
That was a great weekend.
Checkya tomorrow,
Fires out.