Australia's greatest leader, Gough Whitlam died yesterday at the age of 98. As tributes and reflection flow, we remember a man who profoundly changed our society. In 3 short years (1972 – 75) he wrenched this country out of the dark ages. Because of him, thousands of working class kids like me went to university, had access to free health care, got our own national youth radio station (Triple J), and the right to vote at 18. Unmarried women were allowed to apply for a bank loan & all women were awarded the same minimum wage as their male counterparts.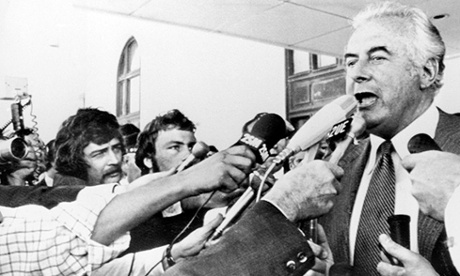 Gough Whitlam addresses reporters outside parliament in Canberra after his dismissal by the
governor general. Pic from The Guardian website.
Whitlam ended military subscription, pulled our troops out of Vietnam, introduced the racial discrimination act and "no fault divorce" legislation, elevated the arts, stopped drilling for oil in the Great Barrier Reef, and installed sewage systems to the Australian suburbs (yep – it was a dunny out the back before Gough). The list goes on and on. Perhaps his most inspiring act was to return stolen land to traditional owners, the Gurindji people at Wattie Creek in the Northern Territory – pouring a hand full of soil into the palms of tribal leader Vincent Lingiari, symbolically handing back Wave Hill Station. "We are all mates now", Lingiari said.
I don't know what's sadder today; the loss of such a great man, or the realisation there will never be another leader like him.
Vale the great Gough Whitlam. (read more)
Fires out.