Last night, Ross Buckingham played his first ever open mic gig (I hope I've got that right). We went down to Station 59 in Richmond where Ross played a 15 minute set, including a cover version of Skeleton – the first time we've ever heard someone else do one of our songs live – what a buzz.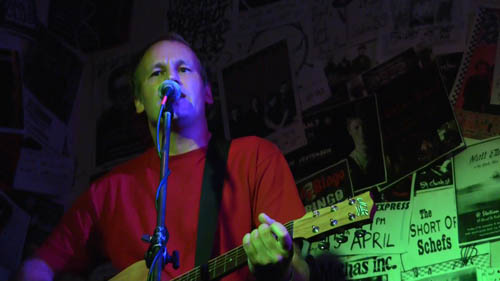 Ross Buckingham at Station 59, Richmond Victoria, last night.
Thing was, he gave Skeleton a completely different spin. With a deep timbre in his voice, sounding a little like Leonard Cohen & Cat Stevens, he slowed the song down capturing a melancholy intensity. Fantastic. I took some video of the show to post here shortly. Ross also played guitar with us a few months ago when we recorded The Jam's 'That's Entertainment' for our 'Somewhere In The World' video series.
Speaking of videos, while I think of it, Friday night's Rage was awesome, making for a very slow start to Saturday. This clip by The Horrors, 'I Can See Through You', still stuck in my head.

For OS viewers, Rage (video show) runs every Friday & Sat night on ABC TV, starts at about midnight & goes til morning.
Checkya later.
Fires out