Spent yesterday arvo at Reclink Community Cup, down at Elsterwick Oval. Awesome day, weather was great (but freekin cold), beer was cheap. Kick to kick at half time with mates Craigie & Bren – and no one got hurt this year (got a couple of people in the face last year). Adalita was a highlight, playing a blistering set right before the game. The game itself was a white-wash. Not sure what was going on with the scoreboard, but Rock Dogs (Melbourne musicians) got absolutely smashed by a surprisingly well skilled Megahertz side (Melbourne music industry) – their first win in 5 years.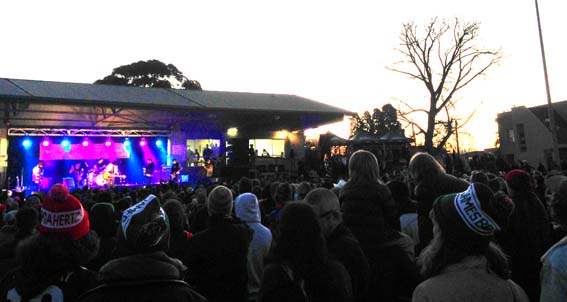 After the game, shot taken by Craigie out on the Elsternwick Football Ground.
There were plenty of streakers braving the cold. The crowd was big – hopefully heaps of cash was raised to aid disadvantaged people in our community. Another great Reclink Cup – looking forward to next year.