Just hours before it looked almost nice. But me and Plumber Stu, in the hunt for offending water pipe leak, turned the beer garden walkway into a trench & dirt pile. One of those episodes where you think you're starting a small job & end up replacing 10 metres of underground pipework. Still haven't back-filled yet (& relaid the turf cover). Gotta pour chlorine along the ditch. Stu reckons the wall & ground directly below has endured decades of urination by human and animal alike – hence the smell in the soil. Nice. But tomorrow hopefully that'll be a thing of the past, when chemicals decontaminate the area.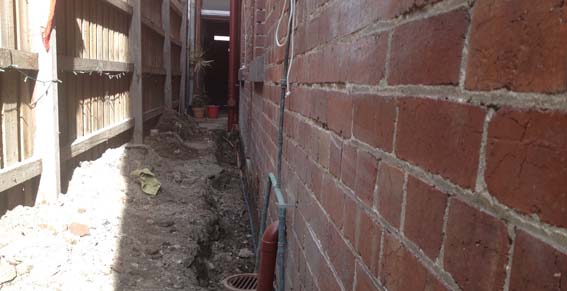 Beer garden walkway a few minutes ago.
Round 9, AFL Season this weekend. A make-or-break game for the Bulldogs who've now slipped to 4 and 4, and 3rd to 11th on the ladder. It'll be a tough game against GWS who sit deservedly in the top 4. Interestingly, ruck-man Wil Minson might return for tomorrow's clash – the Dogs not winning a game since he was dropped over a month ago. The Bulldogs are in desperate need of height & strength – the lack of which they were terribly exposed for last weekend against Melbourne. Hopefully the enigmatic Minnow will re-inject some much needed physicality.
Fires out.