Melbourne Zombie Walk
Yesterday, TOF reporter Mat Ward, partook in the annual Melbourne Zombie walk. He'd been at us on Facebook to get down there. It certainly would have made some great film clip material.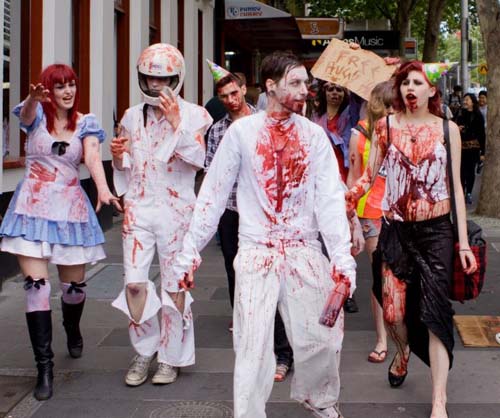 Alas, we were scared off by the weather & stayed home to set up the studio. So, instead of adorning ourselves in fake blood & undead attire, we were rehearsing (3 weeks til the Cherry Bar show in Melbourne).
Comfortably Numb, Queensryche & Dream Theatre

TC sent me this video link on Facebook yesterday. He's a man who likes his rock old school and, knowing I'm a massive Floyd fan, couldn't resist giving me a heads up on this. Gotta say, the lead break at the end doesn't disappoint.
Melbourne Cup Day tomorrow.
The Australian nation stops for a horse race – and if you live in Victoria, it's a public holiday.
Hi Mum – I don't know why the video from China in yesterday's post doesn't play for you. Is anybody else having the same problem?
Checkya later,
Fires out.