A big weekend of AFL gone & the top 8 now decided, this weekend's final round will determine who lands where, who plays who – and who gets a home final in the first week. At this stage, the Bulldogs look likely to host a very dangerous Adelaide Crows in a cut-throat encounter. That's if the Dogs win this weekend. If they lose (and Adelaide beat Geelong), Adelaide may well host the Dogs – and that'll be tough. North Melbourne & the Tigs are also in the mix. Sydney need to win to hang onto 4th spot & the double chance – especially if the Tigs spank North this Friday night, or the Dogs win by some freakish margin. Only Freo, sitting atop the ladder, will hold their position regardless of this weekend's results.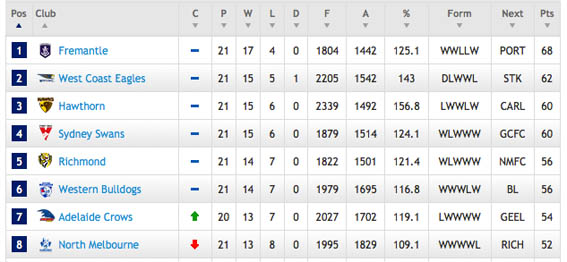 AFL Ladder at the close of Round 22, Sunday 30th August 2015.
It's intriguing stuff for Bulldogs fans, who never imagined they'd be part of September action this year.
Fires out.