Kevin Radomski set to tour China with The On Fires in May 2013. We first met Kevin on tour in the US in 2010. He came on board for shows in Texas, including the 'South By South West' festival in Austin. We had a fantastic time staying at Kevin & Stacey's place in Houston & rehearsing at Kev's studio with his buddy Chris Bourke on bass. Later in that year, the guys came to Poland with us for Seven Festival (near Gdansk).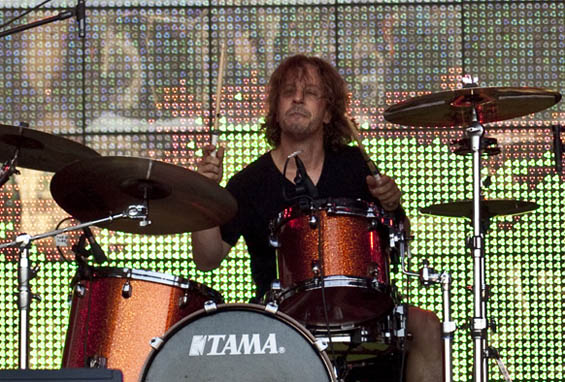 Kevin Radomski on stage with The On Fires, Seven Festival Poland 2010.
Kevin has traveled the world for the past couple of years as drum-technician for Jane's Addiction drummer, Stephen Perkins. Jane's have a rare gap in their tour schedule & Kev's available to come out on the road with us. Late 2011, I flew to Brisbane for 'Splendour In The Grass' to hang back-stage & watch Kevin work his arse off for Janes. After the festival we spent a few days checking out Brisbane & the Gold Coast (got to pat some Kangaroos) before he flew out for the next tour leg.
Fires out.