The past couple of days have been a whirlwind. For a start, I got sick like a fucking dog yesterday & got through the show last night in Shaoxing by some act of god. Might have been the frogs I ate, thinking it was chicken. I wondered why the bones were fish-like. Back to the hotel after show & collapse. The back of my eyeballs hurt. When we left for Shanghai this morning I couldn't see straight so I left my toiletries bag in the bathroom. There goes a whole bunch of stuff I need not to a; stink and b; shave & brush teeth. Dammit, I hate losing stuff on the road. I REALLY hate it. Nobody uses deodorant in China, can't get it anywhere – so that's it for the tour. I'm gonna stink this country up.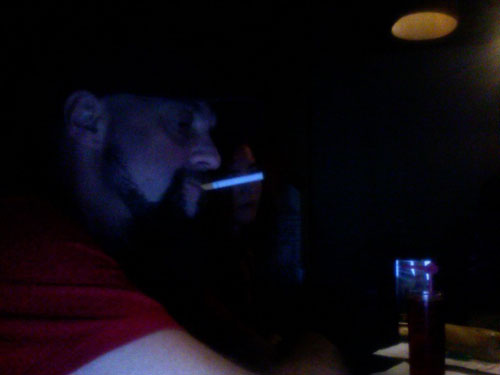 Marty & Max at the bar at club Yuyintang, Shanghai China.
We've got a show in a couple of hours – we're at the club now, Yuyintang. They've got working wifi – which has been hard to find.
Checkya later,
Fires out.