Beers Thursday night with Lachy next door & we decided to throw a last minute Grand Final day party at his bar. 24 hours to get organised. Posters designed & printed by Friday afternoon, up on the bar front windows by sunset. Borrowed a TV from Rick (neighbour across the street). TC rolled up with a long aerial cable & we hooked into one of our TV points over the fence. Facebook notification late night & people started rolling in midday Saturday.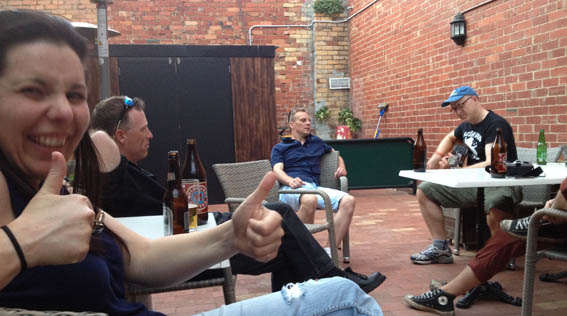 Sandy gives thumbs up as Mat serenades post game.
The game was actually an anti-climactic fizzer . Hawthorn just too good and West Coast surprisingly overawed by the occasion right from the start. By quarter time it was pretty much all over, and just got worse from there, the mighty Hawks running away with their 3rd AFL Premiership in a row. And that's a wrap for 2015's epic season, Hawthorn cementing their place in history as one of the game's all-time greats.
Now it's time to get excited about cricket. I've never found that an easy task.
Fires out.