About the space –
Studio V is an awesome pop-up space on Johnston Street in Collingwood, also hired for acting classes, theatre rehearsals, art & craft, exhibitions and gallery space.

The room has a small stage, high pressed metal ceiling, double sink, heater, bar fridge, mirror and table, warm bright lighting for afternoon / evening sessions, complimentary tea and coffee, fold out seating for up to 20 people and a partition curtain to separate the kitchenette area. A side walkway leads to the rear courtyard including toilets, and outdoor bench seating.
Studio V is located in a public transport hub. Victoria Park station is just across Hoddle St, bus terminals running north-south & east-west routes are located within 50 metres. Smith St Trams are within a 10 minute walk.
Click the pic below for more shots of the space, courtyard and floor plan.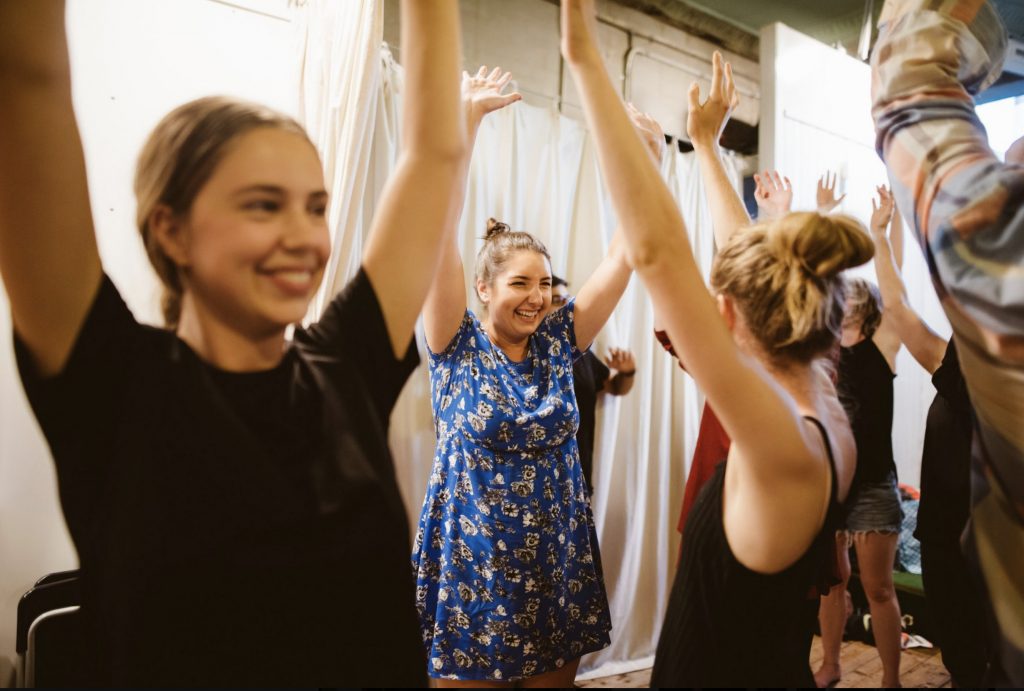 Hire pricing (excludes GST) –

Theatre & acting rehearsal or classes, arts, craft & general use –
$40 / 3 hr session.
$50 / 4 hr session.
$80 / 8hr session.
Session times:
10am-2pm, 2pm-6pm, 6pm-10pm.
Weekly discount rates available.

Pop-up retail & art gallery use –
$120/day (up to 12 hours)
Starting from 7am, if needed.
If the above isn't enough time to bump in, setup & bump out let us know.
Discount rates available for previous day setup & post day tear down.
Due to local council regulation, we're unable to accommodate live performance, photo or video shoots at this time.
Strictly no gear, bikes, equipment, bags, shoes or clothing allowed in walkways or doorways.
(bikes can be parked in the rear courtyard or out front)
Hours of use –
The space closes by 10pm weekdays & Saturday, 8pm Sunday.
Other uses, including longer term – let us know what you're thinking.
Payment –
Direct bank deposit to confirm and secure your booking. Entry door code issued upon receipt of payment.
Paypal payment also available – details on your booking confirmation invoice.
Booking and cancellation details –

Bookings paid for and cancelled or changed within 7 days of a session are non-refundable if we've knocked back another booking for that date and can't fill that session.
We hold all bookings for 48 hours after issue of confirmation invoice. If payment is not received in that time, the booking may be cancelled. We'll do our best to notify you. For last minute bookings, payment must be made immediately to secure that booking (email or text a copy of your deposit confirmation). Direct deposit details listed on confirmation invoice.
For activities requiring public liability insurance, hirers will need to organise their own insurance.
Parking –
2 hour parking during business hours available on Johnston & surrounding streets.
Parking is unrestricted on Johnston Street after 12pm Saturday, all day Sunday and after 6:30pm weekdays. 2 hour parking other times. There's a clearway on our side of the street from 4 til 6:30pm weekdays. Victoria Park station has ample parking (150m away).
Feel free to contact me if you're looking for a venue like ours.
Happy to show you through.
Marty 0412 398 662
Email: StudioV208@gmail.com
NOTE TO ALL HIRERS:
Strictly no gear or equipment – including bikes, bags, seating, tables, clothing, shoes etc – to be placed outside studio curtain lines. We need to keep walkways and doorways clear for safety and access.
Floor plan below showing hire area, walkways and doorways.